When I was a child, I have memories of my mom growing sprouts in our kitchen.  I have always loved sprouts, especially in the colder months when the produce at the store is not that great.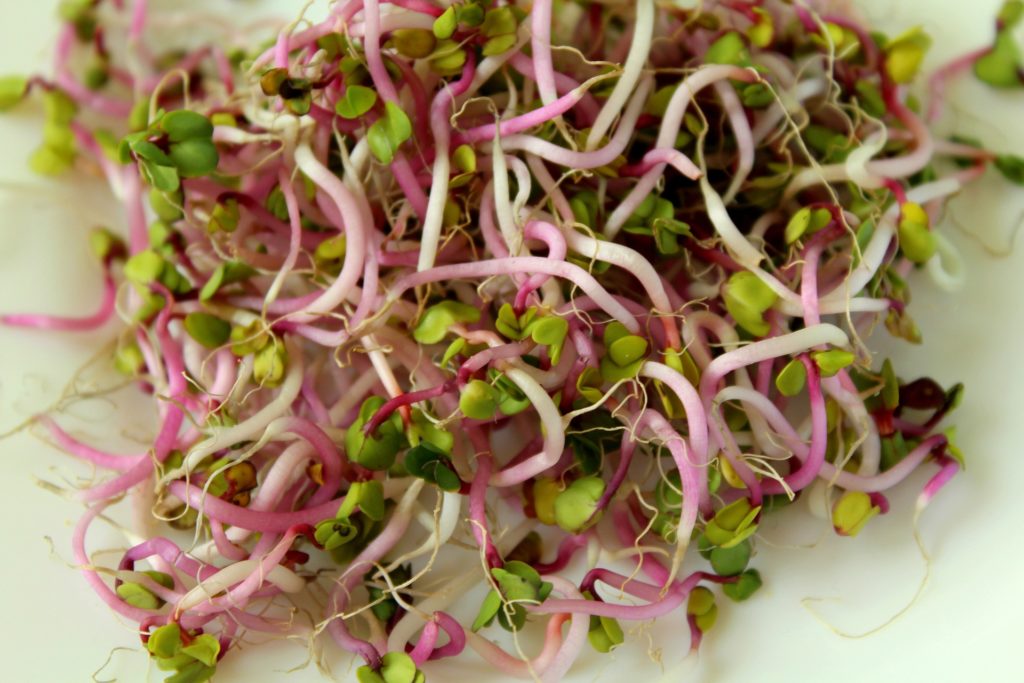 Sprouts are so easy to grow, and there are so many great reasons to grow them!
For one, sprouts are so easy to grow at home; no need to buy them at the store.
Sprouts are nutritious – they have been grown for over 5,000 years!
There are so many varieties – many more than you usually see at the grocery store, which usually include alfalfa, broccoli or clover.
Alfalfa is a good introduction to sprouting. It has a mild flavor, and it is generally easy to find. If you can't find sprouts at a local health food store or garden center, check online. 
Decide what you want to use for a sprouting device. There are many types, from trays to lids for jars. xx
For your first step, soak the seeds for 8-12 hours. 
2 tablespoons of seeds will yield about 4 cups of sprouts – just remember that each type of seed varies.
Rinse and drain well.  Continue to rinse every 8-12 hours. 
The water from rinsing the seeds are full of nutrients – great for watering houseplants!  Keep the alfalfa seeds in indirect light.
The seeds will begin to sprout quickly – you should see some growth within a day or two. Growing sprouts is a great activity for children to participate in.  Since sprouts grow so quickly, it is a teaching tool to show kids the process of growing.
Within about 5-6 days, the alfalfa sprouts turn dark green and are almost ready to eat. At this point, you can move the sprouts so that they get more light (indirect), to help them "green up".
Store your sprouts in the refrigerator about 8-12 hours after the last rinse.  You can rinse the sprouts in a bowl to remove hulls (as they will rise to the surface), but it is not necessary.  Make sure the sprouts are well-drained and reasonably dry, and then place in a bag or other sealed container, otherwise they will dry out.
My 4-year-old showing off her sprout sandwich!
  My kids like a toasted pita pocket or toasted bread with some mayonnaise and sprouts.
Sprouts are a very versatile food – you can make sandwiches, top salads, and so on.